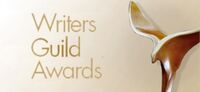 The Writers Guild of America (WGA) has recently published the list of nominees for its 2010 WGA Videogame Writing Award.
Fallout: New Vegas is among the selected games. Other nominees are Assassin's Creed: Brotherhood, God of War III, Prince of Persia: The Forgotten Sands (Wii), Singularity and Star Wars: The Force Unleashed II.
The winners will be ordained on Saturday, February 5, 2011. So let's keep our fingers crossed for Fallout: New Vegas to win the award.