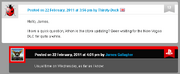 I just asked the SCEE (Playstation Europe Blog), and they responded that Dead Money is coming to PlayStation Store on Wednesday, like always. Bethesda confirms, however that it will be out in the United States already today. You can expect it on Europe's Store around 5PM tomorrow.
Meanwhile, the PC version is now available not only via Steam, but also at Direct2Drive. And you can now get it 20% off! Unfortunately, only in the United States, Canada, Mexico, Belize, Costa Rica, El Salvador, Guatemala, Honduras, Nicaragua, Panama, Argentina, Bolivia, Brazil, Chile, Colombia, Ecuador, Falkland Islands, French Guiana, Guyana, Paraguay, Peru, Suriname, Uruguay and Venezuela.
The add-on is not available for the 1C/Cenega PC version released in Russia, Czech Republic and Poland, nor for imported Bethesda versions of the game if you happen to live in any of these countries. The only official word so far is the Czech Cenega website, which says that it will be out on March 29.