Hey everybody, it's been a while and I hope everybody's been well!
As to how I've been, I've been pretty good. My first day of Grade 11 starts tomorrow, so here's hoping this school year turns out good. Last year I was the Assistant Stage Manager to our school play production. We preformed an original play written in part by our whole cast that ended up making it to the provincial showcase. It was a Post-Apocalyptic Music, and was actually pretty awesome if I do say so myself. I'll have to post a video of one of the performances for you guys sometime.
Now, as I mentioned I start Grade 11 tomorrow. Due to this and some great timing, my mother and I, accompanied by a family friend decided to go to Fan Expo the last weekend to my summer vacation. For those of you who don't know what Fan Expo is (and I presume that it's a number of you), Fan Expo is a yearly convention held the last weekend of August in Toronto here in Canada. It's much like a Comic Con with loads of vendors selling great stuff, famous celebrities in the comic, gaming, television and movie genres and some truly awesome cos-play by some really dedicated fans. Now before anyone asks, no I didn't dress up for Fan Expo so there will be now photos of me in some Sailor Moon outfit - even though I did see a few Sailor Moons, one was even a man o.O
Anywho, I ramble as always so to my point. I'd just thought I'd share some awesome photos and showoff some of the cool stuff I got at Fan Expo on Saturday. Just as a heads up, a lot of these pictures are kind of blurry because most of the photos were taking in quick passing to ensure I could actually get the pictures. Hope it's no too big of an issue. Hope you enjoy!
Fallout and Bethesda
First things first, what's closest to all of our hearts. Fallout and Bethesda!
Now, I didn't see much from the Elder Scrolls Series, but I did run into a small number of Fallout Fans. I even saw a Vault Dweller in a full Vault 101 jumpsuit and a Pip-Boy. Sadly I wasn't able to get a picture or check out his Pip-Boy, but I was able to get a few good images of some NCR Rangers and Troopers. Enjoy!
Now not only were Bethesda fans at the Expo, yet Bethesda themselves were at the Expo.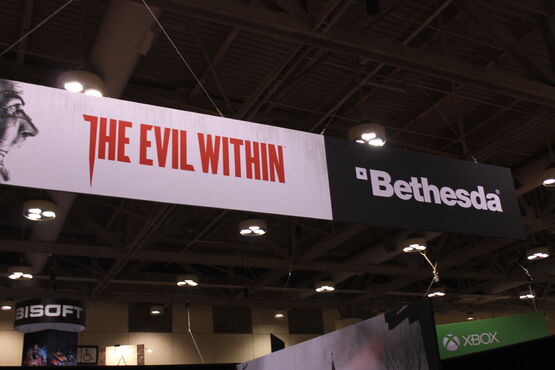 Bethesda was there showcasing The Evil Within with it being playable. I didn't play myself, as we the line was a far size and we were only at the Expo for the one day, so I wanted to get experience the Expo while I could. I did how ever watch as others played The Evil Within, and it really did look awesome. Reminded me a bit of Silent Hill, yet more gruesome. I heard only good things from those who played.
As I was walking by the Bethesda booth, one of the attendants was giving away an exclusive pet companion for The Elder Scrolls Online. Now I don't have The Elder Scrolls Online, so I'd thought I'd offer it you guys. First come, first serve!
Gaming
Not only was Bethesda present at the Expo, yet PlayStation, Xbox, Ubisoft and 2K Games were also there. Each offering their own exclusives and games to play. On top of all of these developers, there was also a League of Legends and a Starcraft II tournament on with casters and all. Quite the loaded agenda for gamers.
PlayStation
The PlayStation area had a number of different playable games, including Destiny, The Order: 1886, NHL 15, Far Cry 4 and Driveclub. All playable and all with very short lines, and so I actually got a chance to play a Crucible (Deathmatch) game in Destiny. Even though I did play the Beta previously, playing Destiny again really was fun and got me excited for the game even more.
Xbox
Being the PlayStation fanboy that I am, I mostly stayed away from the Xbox area. Yet, Xbox was showing of some sweet games including Sunset Overdrive, The Master Chief Collection, Call of Duty: Advanced Warfare, and something else which I completely forget. I didn't play anything on Xbox, and both Advanced Warfare and The Master Chief Collection were behind closed doors so to say, so not much from the Xbox portion from me.
Ubisoft
Being a massive Assassin's Creed fan (excluding Assassin's Creed III) and a fan of Far Cry 2 and 3 I was excited to see Ubisoft at Fan Expo. Ubisoft had both Far Cry 4 and Driveclub playable, with a behind closed doors playthrough of a early mission of Assassin's Creed Unity by one of the game developers. Sadly, when I went to see the Assassin's Creed playthrough, the dev was on break sadly. Instead, I jumped in a short line and got the chance to play Far Cry 4. Let me tell you, riding an elephant through an enemy encampment was awesome.
2K Games
2K Games has really been pushing their new game Evolve lately and Fan Expo was no exception. For those of you who don't know, Evolve is a one versus four competitive multilayer game. The single person plays the role of a monster, and must elude the other four players - who take the role of the hunters, each with their own specific class and abilities - while eating the local wildlife and attempting to Evolve and level themselves up to the point where they can overpower the hunters. Another game I'm really looking forward to. Sadly another area with lines far too long for myself, yet again all I've been hearing are good reviews of Evolve.
Conclusion
Anyways guys, this was only just a small part of my blast at Toronto Fan Expo. If you'd like, I can make another blog detailing more of time at Toronto Fan Expo including a lot of Doctors, a lot of Stormtroopers, a lot a cool gear and even a few famous people! Hope you liked this insight into how I spent my last summer weekend and Toronto Fan Expo. Look forward to hearing from you guys!
Yours Always; --The Old World Relics (talk/blog/contributions) 22:17, September 1, 2014 (UTC)