Mount Hell

Segments
sections
Hellscape
Vault Door exterior
Vault 6

People
factions
Pax's ghouls
Vault Glowing ones
leaders
Pax

Other
quests
Spot irradiated locations for Pax
Train ghouls to defend against mutants
Convince religious nutcase to leave
Clear out Vault 6
"
Welcome to Mount Hell, I'd say the grass is greener on the other side but let's be honest.
"
— Pax
Mount Hell, informally designated by the ghouls who now reside there, is the settled exterior of Vault 6 atop Mount St. Helen. It's locale is indicated by a distinguishing green glow coming from the mountain's peak, emitted by the radiation concentrated inside.
This clever play on words was inspired by the venue's appearance to travelers, as an irradiated hell hole constructed atop a pre-existing volcanic hell. Prominently displayed above the heads of those who enter Mount Hell is a sign that reads, "Mount St. HelLen"
Mount Hell is located in its Pre-War location of Washington State of the Northwest Commonwealth. It is only accessible initially by a ghoul caravan led by a ghoul named Dust, who can be found in a Random encounter in the Core Region. Once there, you will be prompted aside to be searched and for any information regarding mutant activity. After discovery, Mount Hell becomes a fast travel destination.
Location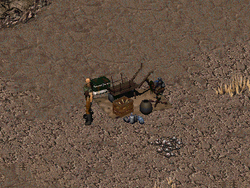 Mount Hell exists only as a Random encounter destination.
Background
On the day of the Great War the citizens of Vault 6, though few in number, were all safe and secure within their vault and relative isolation. Following the war, the Vault would periodically allow massive spikes of radiation to seep through its designed ventilation shafts and into the vicinity of the Vault population.
After awhile Vault 6 became nothing more than a ghost story along the Mountainside as a cave filled with nothing but insane Glowing Ones. In the year 2084, a ghoul named Pax came after being driven out from Necropolis for trying to remain cautious about radiation. Followed by a few ghouls he had gathered along the way who had nowhere else to go, Pax set out to find a place no one else called home.
Donned in radiation suits, Pax's entourage found the isolated exterior of Vault 6 and the glowing ones within it. After getting attacked by the feral group, Pax had the Vault sealed off with the glowing ones inside of it. Though his group was now locked off from the Vault's equipment, Pax could still utilize the area's mystique to camouflage his group from outside attention.
With the boosted radiation resistance of being ghouls and wearing radiation suits, Pax's group eked out an existence by scavenging normally hazardous radioactive areas even for ghouls for scrap and technology which they only traded with Dust's caravan in exchange for food, water and other commodities.
In 2157, the Master learned the location of Vault 6 and sent a small detachment of super mutants to investigate the area. Not knowing the Vault's purpose, the detachment was dismayed to find the area so visibly irradiated, so before they could investigate, they left, leaving Pax's still unknown group in peace.
In March 2162, a mutant army attacked Necropolis, sending which led to the Great Migration of ghouls across the wastes, leading some to Pax's hideout.
Layout
Mount Hell has a relatively linear layout, through the gate you get to Hellscape, through Hellscape you get to the Vault door exterior, through the vault door you get to Vault 6.
Hellscape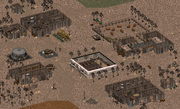 Behind the gate and walls to this mountainous domain lies the general town, filled with multiple houses and shops the only thing that sets it apart from outside the wall is that it actually isn't very irradiated and has a modest, albeit mutated, garden.
Vault door exterior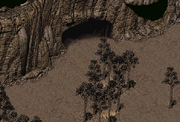 Beyond this cave lies the door to Vault 6. The area surrounding this cave has little to no importance other than the stigma it has with the local ghoul population. Entry won't be granted without Pax's say so as well as the actual door code.
Vault 6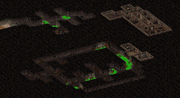 This far from dark labyrinth plays home to the glowing one population of Mount Hell. Here you will find nothing more than a challenge and nothing short of one as well. Clearing out Vault 6 is the only way for Pax's community to thrive in their isolation.
Inhabitants
The inhabitants of Mount Hell consist of Pax's ghouls, the Glowing Ones, and even a Follower of the Apocalypse.
Pax's ghouls: A rag tag bunch of mercenary/scavenger class ghouls clad in radiation suits. They are wary of all who enter equally but still hold a peaceful stigma with their smoothskin counterparts. The only threat they seem fond of mentioning is the super mutant menace, to which they are welcome to tips and assistance.
Pax: Leader of Mount Hell, mainly makes sure the community runs smoothly.
Roll: Captain of the Guard, he takes his job seriously and isn't beyond advice, but he's far from gullible.
Dust: The caravan runner for Mount Hell, he won't trade from you once you're at Mount Hell but he will shuttle you to Mount Hell for free.
Root: The local gardener, and perhaps the only ghoul with a literal green thumb.
Ware: The local shopkeeper, he's modest enough in trade but he's better known for how much he'll buy opposed to what he sells.
The Glowing Ones: The original inhabitants of Vault 6. Designated as half of Vault 12's designation but twice the rads by Mount Hell's current inhabitants. These ghouls will attack anyone on sight and unknowingly defend the treasure trove that which is Vault 6. They are sealed off until you are granted access to try your hand at killing them.
Follower of the Apocalypse:
"
He takes the following of the apocalypse a bit too seriously.
"
— Mount Hell resident
A very eccentric ghoul who is actually a glowing one that managed to remain coherant. This ghoul treats all ghouls as holy and the radiation as the true essence of cleansing light. He believes that the radiation strips away a human's evil and grants them immortality for their faith to cleanse themselves. He considers himself a sort of prophet but the rest of Mount Hell considers him a nutcase. They tolerate him only for his connections with the FotA and their supply of RadAway and Rad-X.
Behind the scenes