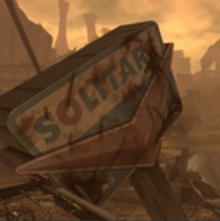 Chris Avellone's avatar on Twitter has changed again, this time featuring a mysterious devastated locale with an angled "Solitare" sign. This new avatar is the first picture of Lonesome Road! Thank you No Mutants Allowed for the info.
Ad blocker interference detected!
Wikia is a free-to-use site that makes money from advertising. We have a modified experience for viewers using ad blockers

Wikia is not accessible if you've made further modifications. Remove the custom ad blocker rule(s) and the page will load as expected.