Hello Ladies and Gentlemen! After much voting and discussion, we have produced our 2014 Nukapedian of the Year, runner-up, and Best Newcomer!
The Nukapedian of the Year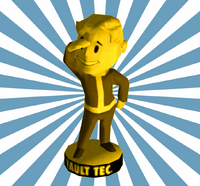 Congratulations to this year's Nukapedian of the Year: Peace'n Hugs!
Peace'n Hugs is one of our patrollers and the host of the ever-so-popular Hide and Seek with Helena blog series. Ever since joining the wiki, Peace has worked hard with editing, adding countless images to our articles. Besides his diligent work adding content and patrolling, Peace's popular blog has remained a key component of our community's entertainment sector.
Oh, and he's also a nice guy to talk to in chat!
The Runner-up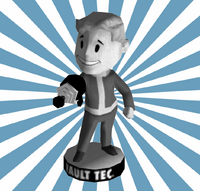 We are also pleased to announce our runner-up: T234LovelyCassie!
Although she's been around since 2009, Cassie went to heavy editing this year, becoming incredibly productive in only a few months! Also a patroller, she has kept a watchful eye over the changes made to the wiki, ensuring that edits fall in line with policy. Beyond editing, she has exhibited an exceptional degree of professionalism and is currently running for a full moderator position.
Best Newcomer
The recipient of the Best Newcomer Award this year will be Digital Utopia!
Digital Utopia has brought an advanced level of bot knowledge and other technical understanding to the wiki. Many issues have been solved through his expertise!
Acknowledgements
Your board for the final deliberation consisted of the following users:
A thank you to Agent c and The Gunny for stepping in last minute. Your help is greatly appreciated!
Thanks to all who participated. I will see you next year!