Hello Ladies and Gentlemen! After voting, deliberations, and a tie-breaker, we have produced our 2013 Nukapedian of the Year, as well as runner-up and a Best Newcomer of 2013. And so without further ado, let's get started!
The Nukapedian of the Year
Today we have the honour to be announcing our Nukapedian of the Year: Jspoelstra!
Jspoelstra (also known as Jspoel or J) has been editing at Nukapedia since November 2010. Many (including myself) may think of him as the images go-to guy or the edit bot. In the years since, J has amassed an incredible 160,000+ total edits, including over 100,000 article edits. Furthermore, it is still unknown whether or not J has ever missed a single day of editing...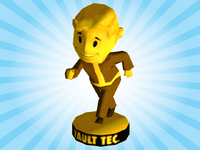 Having been an administrator since March 2011, Jspoelstra applied for the bureaucrat position and received overwhelming approval from the community.
J's leadership, images, and heavy maintenance work all goes to keeping the wiki together, and we would be nowhere near where we are now without him. It is as such that we proudly present the Golden Bobblehead to Jspoelstra! Congratulations!
The Runner-up
We are also pleased to announce that the runner-up of the 2013 Nukapedian of the Year contest: 69.l25!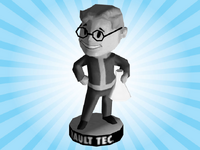 Starting out as an anonymous user, 69.l25 quickly came into the spotlight as an aspiring upstart editor, making thousands of edits within months.
69.l25 has checked hundreds of infoboxes for correct data, fixing incorrect data and adding missing data with his GECK expertise. He soon became a resident GECK consultant, with many users asking him for verification and other GECK services.
69.l25 also attained patroller rights and has helped with many projects around the wiki.
Best Newcomer
Also, we've created a Best Newcomer Award. This year's recipient is Tribal Wisdom!
Although we've had tons of new talent enter the wiki this year, the board feels that Tribal Wisdom has truly deserved the Golden Bottle Cap. Only joining in July, Tribal Wisdom has made over 5,000 article edits in only a few months. Oh, and he's also quite friendly!
Acknowledgements
Your board for the final deliberation consisted of the following users:
And a final thank you to everyone who participated in nominating and voting. I look forward to next year's NotY, and I wish you all a Happy New Year!