Hello Ladies and Gentlemen, and Happy New Year! Most of you know what is set here before you, but for those of you who don't: this is the announcement of the Nukapedian of the Year!
Nukapedian of the Year
Today we have the honour to be announcing our Nukapedian of the Year: Agent c!!!
Agent c (aka "Chad") has been a long-time user at Nukapedia, having officially started in September 2008. According to himself, when we had a little chat long ago, he was mostly a "lurker" of sorts (weren't we all? =P) in the early months. After the Split towards the end of 2011, Chad took over the role of the news, and regularly provided detailed and interesting news to the community of Nukapedia.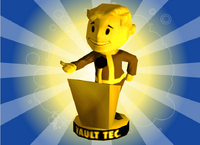 I'm doubtful that any of you have not heard of Agent c. You may recognise him from The Hole, the News, Fallout Apprentice, or the many other community-oriented things he organises.
Perhaps the one most significant thing I can say about Chad is that he has initiative. He can make an idea into a reality, and a very successful one at that. He took over The Hole after a hiatus of the programme following the departure of The Nemesisx from the wiki. It was greatly popularised with the co-host Sulik as well as the addition of a large-scale tournament structure. Fallout Apprentice was another great long-term event we've had here, managed by Chad. Several users participated in Fallout-related challenges, with their products read by even more users in the community.
Chad also founded the Nukapedia New User Network, which has helped several users in developing editing skills and capabilities, and produced quite a few skilful patrollers! He's also a likeable guy, let's face it – polite, respectful, and calm even amidst intense conflict and unpleasantness.
And so we proudly present the Golden Bobblehead NoTY award to the one and only Agent c this year!
The Runner-up
We are also pleased to announce that the runner-up of this year's NoTY is Jspoelstra!
The first thing you might notice about Jspoel is, "Damn! That's a lot of edits!" Well it is. 100,000 edits is no walk in the park. It took months of dedication and willingness to help improve this site.
After the Split, Jspoel and Kingclyde became our two sole bureaucrats for quite awhile, before GhostAvatar and The Gunny stepped up too. Besides being a marvellous editor, Jspoel has the calm and patient attitude that we all admire. Working in the background, he's not a man of many words, but when he does speak everyone sure as hell listens!
J has also been a mentor for several users (including myself), both before and during the NUN.
And so we proudly present the Silver Bobblehead NoTY runner-up award to Jspoelstra this year!
Acknowledgements
I'd like to congratulate this year's NoTY, as well as the runner-up. They are great users who have done an incredible amount for this wiki, and we would not be anywhere near where we are now without them.
I'd also like to note that The Gunny came in 3rd place, as per the results of the board deliberation. Gunny is a great editor, bureaucrat, and friend. He took it upon himself to learn about templates, CSS, and all that technical jazz and he did - right now he is one of a few users who have advanced knowledge of that stuff. And finally, his decorum and attitude is definitely one to be admired by all.
Your board for the final deliberation consisted of the following users:
* A special thanks to -bleep196- for stepping in for me, as I wasn't able to make it.
Beyond that I'd like to thank all the board for proceeding with deciding the winners despite my absence. You knew I wanted to get things done and you went ahead with it. All of you are very dependable and responsible and I thank you for your service.
And a final thank you to everyone who made this such a success. I look forward to next year's, and I welcome and encourage suggestions to the improvement of this programme.
I wish all a Happy New Year!