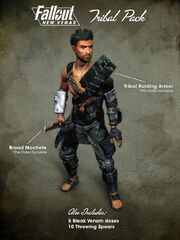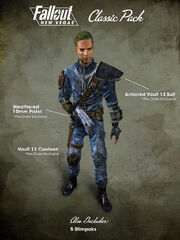 Bethesda has announced 3 new pre-order packs for Fallout: New Vegas today. The Tribal Pack, the Mercenary Pack, and the Caravan Pack. All of the packs are retailer specific. The Tribal Pack is only available at Amazon, the Caravan Pack will only be available at Steam and Wal-Mart, and the Mercenary pack is only available at Best Buy.
The Tribal pack contains a set of Tribal raiding armor, a Broad machete, 5 Black Venom Doses, and 10 Throwing spears.
The Caravan Pack contains Lightweight Leather Armor, the Sturdy caravan shotgun, 4 Repair Kits, and a pair of Binoculars.
The Mercenary Pack contains Lightweight Metal Armor, The Mercenary's grenade rifle, 3 Super stimpaks, and 3 Doctor's Bags