Comments

70
Fallout 3 360 Avatar gear coming this week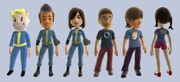 The XBLM is getting some new Avatar clothing in the form of Fallout 3 related clothing coming November 26th. There's a couple items going up for sale like a Vault 101 jumpsuit, some Bethesda T-shirts, and the most notable, the Vault Boy suit and Head, which in my personal opinion is the creepiest with its "I'm starring into your soul" eyes, also the Vault Boy suit is only available for male avatars, the others swing both ways though.
Vault 101 Suit -- 240 ($3)
Bethesda Game Studios Shirt -- 80 ($1)
Fallout 3 Ringer Shirt -- 80 ($1)
Vault Boy Shirt -- 80 ($1)
Vault Boy Suit -- 240 ($3)
Vault Boy Head -- 80 ($1)
Ad blocker interference detected!
Wikia is a free-to-use site that makes money from advertising. We have a modified experience for viewers using ad blockers

Wikia is not accessible if you've made further modifications. Remove the custom ad blocker rule(s) and the page will load as expected.