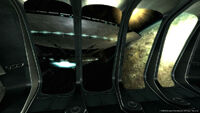 Mothership Zeta, the fifth add-on for Fallout 3, has been released for Xbox Live and Games for Windows Live.
In this add-on, the Lone Wanderer is beamed aboard an alien mothership orbiting Earth miles above the Capital Wasteland, left with only one alternative – to find a way to the bridge of the ship, join with other abducted earthlings, secure escape and find out more about the alien threat to humanity.
Ad blocker interference detected!
Wikia is a free-to-use site that makes money from advertising. We have a modified experience for viewers using ad blockers

Wikia is not accessible if you've made further modifications. Remove the custom ad blocker rule(s) and the page will load as expected.