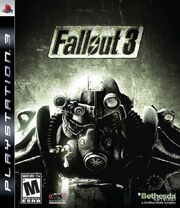 Revising the earlier estimated release dates, Ashley Cheng has announced that the Fallout 3 add-ons will not be available for PlayStation 3 before the end of September 2009. In addition, the release order will be shuffled around: Broken Steel will be released first, followed by Operation: Anchorage and The Pitt later but nearly at the same time and Point Lookout as well as Mothership Zeta last. Precise dates will be announced after the release of the first add-on.
Cheng attributed the delay primarily to required testing time and the inclusion of trophy support for each add-on. He also stated that there will be a new PS3 patch for the release of Broken Steel.
Some excepts from the blog (full blog can be found at the source link below):
So when can you expect Fallout 3 DLC? We are knee deep in testing at the moment, and we're hoping to have the first DLC out by the end of September. That long? Keep in mind that not only do we need to test each DLC on PS3, we also need to test each DLC when used in conjunction with each of the other DLC, as well as all of them together, along with the entire original game.
I do have good news! We have decided that Broken Steel will be the first release since it is easily the most requested DLC from our fans. [...] For the release of Broken Steel and the other DLCs, we'll release a new update for the game.
After Broken Steel, we'll be releasing Operation: Anchorage and The Pitt shortly thereafter, probably at the same time – just to get them out to you as soon as we can. After that we'll have Point Lookout and Mothership Zeta available as soon as we can, so that the wait between DLC is as short as possible. Once we release Broken Steel, we'll have a better idea when the other DLC will be coming and will let you know specifics.
Source: Ashley Cheng at PlayStation.Blog