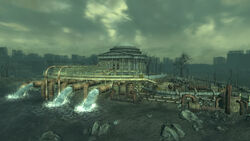 The third Fallout 3 add-on, Broken Steel, has been released for Xbox Live and Games for Windows Live. The DLC costs 800 Microsoft points or $9.99.
In this add-on, the player joins the ranks of the Brotherhood of Steel to rid the Capital Wasteland of the Enclave remnants once and for all.
In addition to amending the game to let players continue their adventures after the end of the main quest and raising the level cap to 30, Broken Steel's quest line is of the same length as the ones of Operation: Anchorage and The Pitt. In order to access the new story content from Broken Steel, the player has to have finished the main storyline from the base game. However, the level cap expansion will take effect upon installation of the DLC, so players previously stalled at level 20 will once again accumulate XP even if they haven't finished the main storyline.