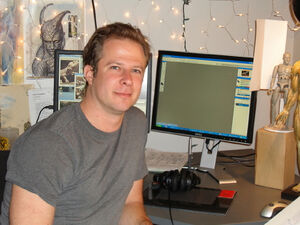 Five years ago, we received the sad news that
Adam Adamowicz
passed away. He had been the creative genius behind Bethesda's games for seven years by then. Up to the end, he was still working on concept art, including already concept art for Fallout 4. I think it's no overstatement to say that he was one of the main creators of what we know as the first person Fallout games today. His concept art has been determining the game design, often even into the smallest details.
Not only in terms of work performance has Adam been amazing, also on the work floor, he has been very popular among his colleagues and visitors. For the newer Fallout fans that don't know him yet, I can only warmly recommend to read more about him and look at more of his concept art. The official Bethesda remembrance page offers a nice overview to start from. http://adam.bethsoft.com/.
The Nukapedia team is grateful for all the great work Adam has done and wishes Adam's family and friends and the whole Bethesda team strength on this day. His memories and work will live on.
"
We wanted to share and ask you to participate in something Adam would have loved. Years ago, he had placed a tip jar next to his desk with a squeezable nun and the sign "Squeeze Nun For Service." At one point for fun he would not acknowledge you unless you squeezed the nun. So in Adam's memory, please "Squeeze the Nun", and leave a tip in Adam's name with the American Cancer Society.
"
— http://adam.bethsoft.com/