Comments

101
Final Fallout: New Vegas covers on BethBlog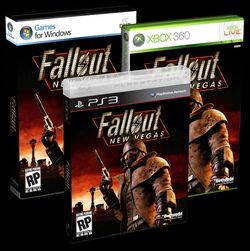 Bethesda recently posted the final box art for Fallout: New Vegas on their blog.
"
Its seal of approval still fresh, the final Fallout: New Vegas box art has now made its way here to be officially inducted into the Bethblog gallery.
The lone New California Republic Ranger stands tall above the foreboding New Vegas skyline, daring you to enter his domain and play his video game for 300 hours. We can't wait to meet him — hopefully while armed with some kind of grenade launcher. A golf club at the very least.
"
Note that for some reason Obsidian's logo does not appear on the box, only Bethesda's.
Ad blocker interference detected!
Wikia is a free-to-use site that makes money from advertising. We have a modified experience for viewers using ad blockers

Wikia is not accessible if you've made further modifications. Remove the custom ad blocker rule(s) and the page will load as expected.