Fallout Friday Polls are in!
Make sure to answer each poll and leave a comment! More polls every week!
MAR. 17, 2017 - MAR. 24, 2017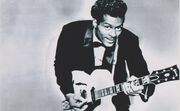 Politics

Confirmation hearings begin for Neil Gorsuch to become a Supreme Court justice. Democrats promise to filibuster, even though he will almost certainly be elected eventually. Republicans control both houses and can use the "nuclear option" to reduce the number of votes needed to a simple majority and force an immediate vote, if they feel that the confirmations are taking too long.
In Memorium

Chuck Berry, known as a pioneer of rock music, dies at age 90, reportedly of cardiac arrest.
Last Week's Polls
Have you ever bought (or intended to buy) a Fallout Collector's Edition game?

Third place was yes, and you liked it a lot.
Second place was no, but you plan on buying one in the future.
Top answer was no, that you didn't like Collector's Editions in general for video games.
Would you be interested in a Fallout game oriented entirely around tycoon and/or Sims-style building; that is, a non-mobile game equivalent of Fallout Shelter with settlements?

Third answer was that you're uncertain.
Second place was no, that you play Fallout mostly for the story.
First place was no, that you think FO4 and FO-Shelter are as far as the settlement/tycoon system should go.
Do you enjoy seasonally themed updates for Fallout Shelter?

Third place was yes, you enjoy them a lot.
Second place was no, they're annoying and/or silly.
First place was that it depends on the update/season.
This Week's Polls
What's your favorite Fallout song?
What's your least favorite Fallout song?
Do you think the next Fallout game should be more gritty, like FO3 and NV?