It's hereee... Fallout Friday Polls!
Thanks to Leea for the Legendary Saturday Polls, so here's the Friday ones! Which are inexplicably released after the Saturday ones.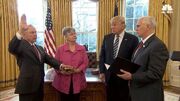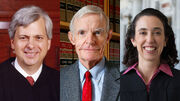 FEB. 3, 2017 - FEB. 10, 2017
This section is being reformatted; I'll be testing some design ideas out for the next few weeks.
Weather
Large amounts of snow pile in, thanks to a huge winter storm primarily affecting the Northeast. Many flights are delayed, roads are blocked by snow or ice, and power goes out in several areas.
Politics
Betsy Devos is confirmed as President Donald Trump's education secretary. Two Republicans choose to vote against her, resulting in a 50-50 tie broken by VP Mike Pence.
Jeff Sessions is confirmed as Attorney General for Trump's cabinet.
The block of Trump's travel ban is upheld by three 9th Circuit Court of Appeals judges.
Last Week's Polls
Extremely nice voter turnout last week, with 34 respondents on the biggest poll!
Do you get jumpscared by holes/cliffs while walking in Fallout?

Third top answer was all the time.
Second was that it never happened. You must not walk much.
Top answer was yes, here and there.
Would you want a 1:1 scale Fallout world?

Second place was yes, a realistic world size would be good.
First place was yes, but only if it's crammed with detail.
What would you want ZeniMax to spend most of their money from the Oculus case on?

Third place was more music rights.
Second was hiring a bigger Bethesda team.
And first was an overwhelming landslide of creating a better game engine.
This Week's Polls
Which spelling of a Nuka-Cola cap do you prefer: "Bottle cap" as in previous games, or "bottlecap" from FO4?
How did/will you get add-ons for FO4?
When do you normally use crafting the most in FO4?