Fallout Friday Polls are here: and now they're official! Thanks to everyone who spent a moment of their time commenting or answering polls, and thanks to Agent C, Jspoelstra, and Peace 'n' Hugs for official support.
Make sure to leave a comment and answer all polls!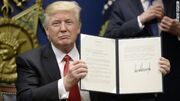 JAN. 27, 2017 - FEB. 3, 2017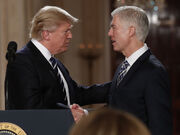 Jan. 27 - Trump signs an executive order temporarily halting selected visa immigration in the refugee program from 7 Muslim-majority countries in the Middle East and North Africa. Trump states that although we want to help refugees, the risk of letting in terrorists is currently too great. He also defends his decision by noting that immigration to the U.S. "is a privilege, not a right."
Jan. 28 - Protests are held against Trump's decision. Airports clog with protesters in numerous cities.
Jan. 31 - Trump announces that he will be nominating Neil Gorsuch as his pick for the Supreme Court justice to replace the late Scalia. He recommends that, if necessary, Congress should use the 'nuclear option' to get Gorsuch in; that is, instead of a prolonged discussion by Congress, an immediate vote would be held, and the Republican-majority Congress would easily elect him, if Democrats decide to filibuster for too long.
Last Week's Polls
Becoming official last weekend definitely helped boost the responses; hopefully this week will be even greater, since it'll be official from the moment it's published.
During the FO3 quest Election Day, who did you elect?

Lachdog 008 played FO3 but not this quest.
A close second place was Rosie.
Winner was Dave.
Did you ever recreate a notable Fallout location when making an FO4 settlement?

Three guys didn't have FO4.
By a landslide of 16-0 votes, everyone else voted "no". You guys really didn't √ settlements, huh? Lol.
How often do you save when you play a Fallout game during a full playthrough?

Third was at the start and end of quests.
Second place was every 10 minutes.
Grand prize goes to whenever you enter a new location area.
This Week's Polls
Have you ever been walking.. walking.. and walking.. When a cliff/hole jumpscares and/or kills you.
Would you want a future Fallout game to have a 1:1 scale world with real life? (Assume that this game has no extra lag due to increased world size.)
Assuming ZeniMax receives the full $500 million from its case against Oculus, what would you want them to spend the most money on?