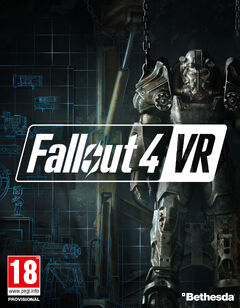 It's here, ladies and gentlemen! Fallout 4 VR has finally been released!
According to Bethesda:
"
Fallout 4, the legendary post-apocalyptic adventure from Bethesda Game Studios and winner of more than 200 'Best Of' awards, including the DICE and BAFTA Game of the Year and Best Virtual Reality Game at Gamescom, finally comes in its entirety to VR. Fallout 4 VR includes the complete core game with all-new combat, crafting, and building systems fully reimagined for virtual reality. The freedom of exploring the wasteland comes alive like never before.
"
— Bethesda website's FO4 VR description
On October 2, Valve announced that VR purchases would contain free FO4 VR pre-order codes, and since Bethesda's statement on October 17, purchases of the HTC Vive have come with pre-order codes for Fallout 4 VR.
The VR game is currently designed specially for the HTC Vive, but can be made to work on the Oculus Rift using Touch controllers (though some bugs do exist).
Although the initial release was somewhat downplayed by the fact that many screens - particularly the target device, the HTC Vive - had a blurry effect during gameplay, a patch update has since been released to fix this problem.
Want the game in VR yourself? Get it on Steam here!
The game is currently priced on Steam at $59.99 (about 51 euros or 45 pounds).