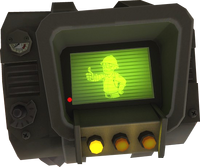 Now, a bunch of you probably don't know this, but Valve Software's hugely popular multiplayer FPS Team Fortress 2 is undergoing a phase of promotional item desire.
As of today's Team Fortress 2 patch, promotional content for Skyrim, RAGE, Brink, id Software's Quake, and most importantly, Fallout have been added. The Fallout item in question is a Pip-Boy, equippable by the game's Engineer class. Equipping the Pip-Boy will replace the Engineer's default heads-up display for constructing buildings with a suitably Fallout-y version.
On another note, Team Fortress is free-to-play, so when these promotional items ARE released, it can be downloaded on Steam for both PCs and Macs.

Oh, and a big shout-out to TF2Wiki users like SilverHammer and Tehsteve for linking back to us here at the Vault for explaining our kooky B-movie setting to the TF2 community!
Update!: As of now, I've received my very own Genuine Pip-Boy for my Engineer through the store promotion. The Pip-Boy is awarded in Genuine quality (which means it has an interesting green text name compared to other items) to players who own New Vegas before August 8, 2011. Whether it will be available as a normal craft or drop item after this is unknown, so get it while you can! Speaking of which, throughout the Quakecon sale, New Vegas, its add-ons, and the Fallout 3 GotY edition are 25% off!