Hi everybody,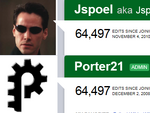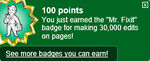 Just wanted to let you know this is quite an exciting day for me. On the 4th of November 2010, so some 14 months ago I started out editing here. Little did I know then I would become such an edit-fanatic and progress that fast in this Fallout Wiki community. After some 4 months, with 16,000 edits under my belt, I became administrator.
At the start I looked very much up to Ausir and Porter21, one of the reasons being their enormous edit-count. It's been one of my motivators to keep the efforts strong. Of course, the best one was loving the game. Without that, all that editing would not have been possible.
A few months back I surpassed Ausir's editcount and today a personal historic day has arrived. With this blog-post I will equal Porter21's awesome editcount and with the next one take over the number one edit spot. Thanks for inspiring me, Porter.
Next goal: my 30,000th main namespace achievement edit (5 edits to go), then the big 100k, and today this user was brought to my attention. That will be a while but who knows I'll get there.
I want to thank everyone for participating in keeping the wiki strong, especially the ones who came through for us after the split.
I also want to make use of this opportunity to invite everyone to take a look at the Fallout 3 endings and Fallout: New Vegas endings pages, in particular the images I've added there. This has taken me some sweet time but it's been worth it, they're beautiful I think. You will notice there are a few images missing, if you can to get to them (didn't succeed yet myself), please let me know.
Being the 'image man' around here, I'd like it if you'd let me know of any important images missing. Sort of a request round.
We stay in touch!