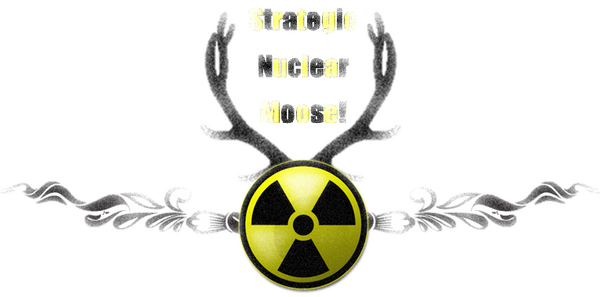 "
And God said: let them have beer!
"
Welcome Fallout lovers to the one and only Strategic Nuclear Moose! The Nukapedian cantina that doesn't discriminate, whether you be ghoul, super mutant, or our deities, the brahmin overlords! So huddle around, grab a slightly radioactive beer, and tell of your wasteland tales!
Huddle around the campfire
Are you the type of wastelander that's been living under a rock in fear of being eaten alive by radroaches and molerats? Looking for a place to catch up on what's going on in the wasteland around you? Or maybe you're just looking for a little company that actually has skin and functional bowels? If so, grab a chair or wench and join us around the campfire! Just be warned, you never know what you might find and hear in this bootlegging sanctuary of ours.
Meet the patrons
Marcus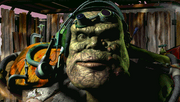 "
Ask Marcus
"
— Answer to all your problems
Ask Marcus constitutes a philosophical answer concerning all of life's unanswerable questions. Questions such as where do we come from? What are we? And where are we going? Questions without a proper answer can all be replied with two simple words - Ask Marcus.


Pilgrim
"
So yeah, we're basically waiting on someone to die...
"
Making a living off the wastes of New Aegre is a difficult proposition for anyone; luckily, Pilgrim isn't just anyone. Join him, his surrogate father El, and his adopted brother Leo, as they traverse the wastes in pursuit of happiness, home, and cold hard cash.
Father Fate
"
You think doing this is easy? Well then, come up here. No, go on, you seem to be sure you can do it better!
"
Deciding all that has happened, is happening, and ever will happen, is a laborious and unpleasant task. For the first time in humanity's history, one man's fate will be decided by others; well before his time. Follow the tale of the Hunter and his companions in Texas, 2301, and give the unresting diety of Fate some well earned time off. I mean, how hard can determining one man's actions be? Couldn't hurt to find out...



Bounties
Looking for a little entertainment? Then check out the bounty board!
The Think Tank
Are you the yella-bellied boot licking egg-head type of fellow that has his fancy tickled by a good debate? Look no further!
Poll #1 - Which is your favorite Fallout pet? Winner: Roxie with 6 votes.
Poll #2 -

Would you like to have a Karaoke night here once a week?

 
The SNM Gauntlet
Has your entire life revolved around showing everyone that you are #1? Then show us your skills and crush all those who oppose you!
Spend the night
Lost track of the time and now there's cazadores prowling outside? Pull out your sleeping bag and enjoy the entertainment!
Watch some television
Packing it up
Thank you for visiting the Strategic Nuclear Moose and we will be looking forward to seeing you again!
Which is your favorite aspect of SNM?
Note: Feel free to list any additional ideas you might have in the comment section below.