0pxembed/videoseries?list=PLvgBUZldyGnL9kwuTzhygUF_ePnGch0wX&amp1

Welcome Fallout lovers to the one and only Strategic Nuclear Moose! The Nukapedian cantina that doesn't discriminate, whether you be ghoul, super mutant, or our deities, the brahmin overlords! So huddle around, grab a slightly radioactive beer, and tell of your wasteland tales!
---
Huddle around the campfire
Are you the type of wastelander that's been living under a rock in fear of being eaten alive by radroaches and molerats? Looking for a place to catch up on what's going on in the wasteland around you? Or maybe you're just looking for a little company that actually has skin and functional bowels? If so, grab a chair or wench and join us around the campfire! Just be warned, you never know what you might find and hear in this bootlegging sanctuary of ours.
Leon the Bartender
TALK - What's the gossip around Nukapedia?

Been away from civilization for so long that you've forgotten how to act around other people? Why not head on over Nukapedia way where they're specialized in

brai... social rehabilitation?

---


Well butter my butt and call me a biscuit, the Moose has finally become a respectable business with its own offices! We're still in construction, but why not drop by to take advantage of what we have to offer so far? All of the features at this modest cantina here will be included there, as well as a new store founded by the mysterious Tactical Atomic Panda. A die-hard fan/Patron of the Moose? Why not donate? All proceeds will go towards improving the site and bringing a larger variety of goods through the Tactical Atomic Panda. Large donations will be rewarded with very unique gifts courtesy of everyone here at the Moose! We hope to see you there soon. First radiated beer is on us!

---


Seems Nukapedia has been expanding quite a bit these days in response to the growing numbers of the NCR. Why not head on over to these new settlements to help out?

---


Both the Moose and Nukapedia are always looking for ways to please our clientele. Why not join the discussion and throw out some of your own ideas?

---


We've always had trouble with marauders around these parts, and sometimes we get trouble even out here at the Moose. So make sure to visit the Bounty Board if you ever run into any trouble. We'll make sure to take care of them.

---

These are different times, stranger. The days of lawlessness in these lands are coming to and end, with civilization slowly creeping up on even the most decrepit wasteland scrounger.

Might be best if you become familiarized with what the future holds before it's too late.
Patron
TALK - Looks like the wastelands have been tough on you. What kind of stories you got from out there?

It always seems like there's some new grand threat against humanity that rears its ugly head every 100 years or so. Travelers speak of a

growing evil

in the horizon that threatens to engulf the wastelands. We've sent riders out to the West in hopes of determining whether this is mere superstition or something we should be preparing for. Only time will tell, now.

---


Been shot in the head and left for dead? Yeah, we've all been there, friend. Why not head on over to Doc Mitchell's place? You look like you could use all of the help you can get.

---


We've all heard stories of the Vault-Boy. Some says he's merely a myth created by superstitious Vault-dwellers. Some say he's a vengeful spirit stalking the wastelands punishing all those he happens across. What do I think? Well, look at these pictures I found in a Vault-Tek lunchbox and you tell me.

---


Tired of sitting on your ass all day drinking piss for booze, with only drug-addled hairless women to look at for entertainment? Why not join the Wasteland Safari? We'll help you create that perfect wasteland adventure experience!

---


Scavenging has always been a necessity of life for most of us out here in the wastes. Seems to often though that we see these pansy-footed Vault dwellers and couriers coming through who hardly know how to rub two sticks together. A lady by the name of Moira Brown has been traveling through these parts teaching savages like you how to create the supplies they need to survive.

---
Legate Lanius
TALK - What is the Legate doing at the Moose?

As future conquerer of these lands, I have traveled throughout the Mojave wasteland

spreading the truths of my past,

and heralding the return of the Legion into these lands.

---

We are growing larger and larger every day, but we still lack the true army needed to integrate New Vegas and the Mojave into the war machine of the Legion. Tribes from all around our coming to us in respect, and hoping they can prove themselves able enough to join our vision. Any ambassador may come to my camp in hopes of winning my favour.

---

Fund Fallout Lanius on IndieGoGo!

---
---
Interviews: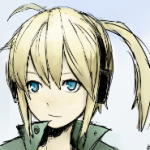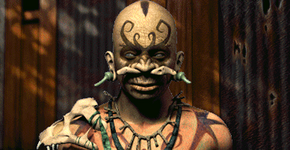 ---
---
The Think Tank
Are you the yella-bellied boot licking egg-head type of fellow that has his fancy tickled by a good debate? Look no further!
Previous Poll Winners:
Which weapon would you use to kill Legate Lanius with? - Experimental M.I.R.V.
Which would you wear to attract the other sex? - Naughty Nightwear
Will you buy the upcoming Fallout: Lanius if it meets its goal of backers?" - Maybe. I need to see more details first.
Which was your favourite make-shift weapon? - Railway Rifle/Shiskebab
Poll #1 -

Who was your favourite power player in the Mojave wasteland?

 

Poll #9 -

Which was your favourite robot?

 

Poll #10 -

Which setting would you prefer for Fallout 4?

 

Poll #11 -

Which enemy would you like the most to make a cameo appearance in Fallout 4?

 
---
Bounties
Looking for a little entertainment? Then check out the bounty board!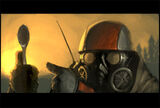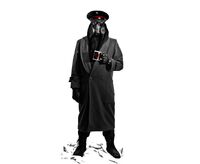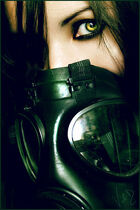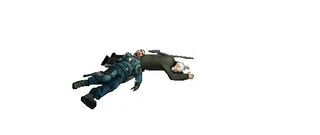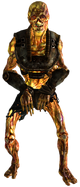 ---
The Karaoke Corner
Pressures of the wasteland getting to you? Just lost your wife due to derelict medical machinery? (Too soon?) Hop on over to the the Karaoke corner then, grab a mic, put on a tune, and sing us the blues!
Lets Visit Nuke-a-pee-de-a


Fallout's Encyclopedia
So just sit back and hit chat
Someone stole our welcome mat
We're Nuke-a-pee-de-a

Come join the Mods and Admins
And our captive Bureaucrats
Just for fun we run around the wasteland with a gun
They lock us up in Junktown, when a stealing we are caught
But we break loose...
And then vamoose...
A highwayman we've got!

We're Nuke-a-pee-de-a
Clyde is T, and ponies rule(?)
Although the trolls may vandal heaps
Our Jspoel he never sleeps
We're Nuke-a-Pee-de-a

Scar and Gothic Neko
Fight to win the Universe
Carman is so laggy
(Nicky wacked him where it hurts)
RamboRob is leaving
But soon he will be back
Leon's here
The anon's fear
the ban length for their curse

We're Nuke-a-pee-de-a
Wikia banned our founding man
We're are cynics to the max
but Vegas stopped us in tracks
We're Nuke-a-pee-de
Totally Unseemly
(don't get feely)
Nuke-A-Pee-De-A
---
Spend the night
Lost track of the time and now there's cazadores prowling outside? Pull out your sleeping bag and enjoy the entertainment!
Featured Article Page #5

Interested in all of those hidden gems that make the Fallout universe so damn unique? Well you're in the right place! This edition's featured article page is over the abomination, which were created by the aliens in Mothership Zeta. And just when you thought yao guai and deathclaws were bad!


Bar fights just not enough to satisfy your bloodlust? Why not visit the Hole? Just climb down into the sewer under the Moose, and you can bet on your favourite contenders, or you can even become a pit dog yourself.
---
Watch some television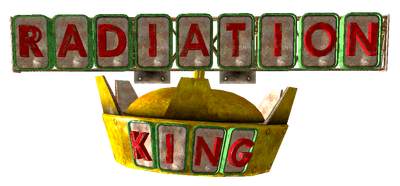 | | |
| --- | --- |
| | Ruin (Watch in 720P HD) |
| | Постапокалипсис - EXOIDS |
---
Packing it up
Thank you for visiting the Strategic Nuclear Moose and we will be looking forward to seeing you again! Make sure to leave us some feedback in the navbar below before you leave as there will be a new one with every edition!
Which is your favorite aspect of SNM?
Note: Feel free to list any additional ideas you might have in the comment section below.
*Click me to view old SNM content!