I compiled nearly 100 sleeping bags/beds to remind me of places to save.
free: no spawns seemed to be triggered by reaching bed.
free*: spawn nearby, can be slept in if approached carefully.
clear: most likely need to clear the area, seemed to be leveled.
quest: need to complete quest before access to bed at Settlement.
boss: pretty much guaranteed legendary with skull next to name.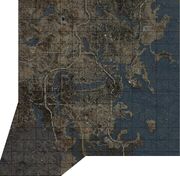 list:
| {x} | {y} | {z} | {opponent} | {notes} |
| --- | --- | --- | --- | --- |
| -102362 | 106413 | | | NW boundry (no bed, map reference) |
| 106386 | -102609 | | | SE boundry (no bed, map reference) |
| -102180 | -15288 | 7058 | clear (synths) | Boston Mayoral Shelter |
| -97117 | 80896 | 9120 | free | Blue Lean-to along transmission line |
| -94145 | 77600 | 8776 | clear | Transmission tower West of Sanctuary |
| -92771 | 17711 | 5551 | clear | Fishing shack, South of Lonely Chapel |
| -91423 | -3191 | 6224 | clear | West of Ft Hagen Filling |
| -90205 | -41231 | 2840 | clear | Roadside Pines Motel |
| -89427 | -50574 | 3237 | deathclaw vs s-muties | SW corner Natick Banks |
| -88314 | -6829 | 5632 | clear | Ft. Hagen parking structure |
| -87821 | 71215 | 7749 | clear | Ranger Cabin |
| -87537 | 41013 | 6821 | clear | Sunshine Tiding Co-op |
| -86706 | 9844 | 6407 | free | Cylinder Launch shack, North of Ft Hagen |
| -86598 | 3201 | 6113 | clear | North side Ft Hagen |
| -81426 | 70428 | 7542 | free* | Trailer NW of Abernathy Farm |
| -77697 | 257 | 4065 | clear | Fiddler's Green Trailer Estates |
| -76283 | 93413 | 7746 | free | Root Cellar, Sanctuary |
| -73079 | -42742 | 2262 | clear | Lake Cochiuta |
| -68163 | -34656 | 3344 | clear | Gunners camp below Mass Pike Interchange |
| -68124 | -27729 | 4924 | clear | Semi Trailer, NW side Mass Pike interchange |
| -64221 | 58503 | 5354 | clear | Gorski Cabin |
| -61600 | -64593 | 3033 | boss | Cabin, NE edge Glowing Sea |
| -57506 | 88291 | 7889 | clear | Camp, East of Sanctuary |
| -55608 | 28070 | 5107 | clear | Rocky Narrows Park |
| -52283 | 45273 | 4719 | clear | House, West of Super Duper Mart |
| -49964 | 72328 | 5414 | clear | Camp, East of Concord |
| -47506 | 26777 | 4906 | clear | Jalbert Brotherss Disposal |
| -45666 | -4482 | 1583 | quest | Oberland Station |
| -40809 | 9394 | 7848 | clear | USAF Sat Station Olivia |
| -37962 | 60177 | 4416 | free* | Starlight Drive In |
| -37249 | -24464 | 2022 | free | Outside Vault 81 |
| -36159 | -92055 | 1858 | free | Summerville |
| -35726 | 35793 | 4600 | free | Freeway, North of Corvega |
| -33959 | -58724 | 1744 | clear | Bridge South of Coast Guard Pier |
| -32939 | -85988 | 2110 | clear | Statue |
| -30808 | -63708 | 1680 | speech check | Egret Tours Marina |
| -30208 | -76291 | 1319 | boss | Cutler Bend |
| -30018 | -32366 | 1915 | free | West end Mass Pike Tunnel |
| -28556 | 17183 | 2504 | clear | College Square roof |
| -24525 | -32551 | 2676 | clear | Raider Camp North side Hardware Town |
| -24312 | -96241 | 1716 | boss | Minuiteman Shack |
| -23207 | 91901 | 6012 | clear (radroach) | Ten Pines Bluff |
| -20692 | -17464 | 711 | clear | Hangman's Alley |
| -16701 | -50988 | 2570 | boss | Fairlane Hills Estates |
| -16554 | -79685 | 2579 | clear | Gunners Plaza roof |
| -8392 | -25800 | 1360 | free | East side, outside DC, guard quarters |
| -8374 | -61943 | 1311 | clear | West Roxbury Station |
| -5562 | 48241 | 1224 | entrance test | Covenant |
| -4660 | -32833 | 1238 | clear | East end Mass Pike Tunnel |
| -146 | 139 | 1414 | clear | Raider Camp, SE of Greenetech Genetics |
| 2550 | 30603 | 3185 | clear | Layton Towers Back Bay roof |
| 4745 | -96302 | 569 | boss | Murkwater |
| 5848 | -47790 | 1496 | boss | Big John's Salvage |
| 6757 | 45561 | 495 | boss | Taffington Boathouse |
| 7932 | -75605 | 1266 | clear | Hyde Park |
| 8367 | -24241 | 2345 | clear | Raider Camp 5th fl, 2 blks S of Hubris |
| 10589 | -67902 | 899 | free* | Jamacia Plains |
| 12916 | -45964 | 992 | clear | South Boston Checkpoint |
| 16453 | 75897 | 1790 | clear | Camp, SW of Mass Fusion Containment Shed |
| 16495 | 15596 | 1380 | pay | Bunker Hill |
| 20221 | -21784 | 816 | clear | Mass Bay Med Center parking |
| 20409 | 54770 | 1394 | clear | Med-Tek Research parking |
| 21613 | -72022 | 617 | boss | Neponset Park |
| 21824 | -39592 | 1261 | clear | South Boston Grognak |
| 21949 | -55522 | 1335 | clear (synths) | University Point |
| 23030 | -98748 | 568 | clear | Ghoul Shack |
| 24273 | -30787 | 574 | clear | Pier Shack, East of Hesters |
| 24694 | -83728 | 1985 | boss | Quincy Overpass |
| 26169 | -43217 | 730 | clear | South Boston PD, inside |
| 28398 | -81377 | 824 | free | North of Quincy Ruins |
| 28496 | -88728 | 1474 | boss | Quincy Ruins |
| 29790 | 66834 | 2156 | quest | Greentop Nursery |
| 33225 | -31726 | 1650 | clear | Four Leaf Fishpacking roof |
| 34462 | -93495 | 1099 | free | Peabody House |
| 36517 | -44648 | 1253 | clear | South Boston Gunner Camp |
| 37670 | -72573 | 629 | free | Atom Cats |
| 38521 | 31611 | 898 | quest | County Crossing |
| 40588 | 2716 | 911 | free | Shipping Container, S of East Boston PD |
| 50065 | -48741 | 800 | boss | The Castle |
| 50747 | 70409 | 1392 | quest | The Slog |
| 50871 | -99558 | 672 | boss | Shack, SE of Quincy |
| 51665 | 13816 | 930 | boss | East City Downs stands |
| 55252 | -96139 | 2158 | clear | Lighthouse |
| 55643 | 47819 | 812 | free | Finch Farm |
| 56640 | -76524 | 519 | quest | Warwick Homestead |
| 57987 | 38069 | 593 | boss | Reeb Marina |
| 58843 | 54476 | 2151 | clear | Hub City Auto Wreckers |
| 61140 | -84840 | 1153 | clear | FMS Northern Star |
| 64309 | 3394 | 715 | free | Nordhagen Beach |
| 69148 | -57538 | 935 | boss | Spectacle Island |
| 69546 | 88423 | 1795 | clear | Coastal Cottage |
| 75330 | -46384 | 547 | free | Barge, N of Spectacle Island |
| 81608 | 15155 | 1773 | clear | Libertalia |
| 82592 | 60925 | 859 | free | Rest Stop, W of Kingsport Lighthouse |
| 84144 | 96548 | 832 | clear | Mahkra Fishpacking semi trailer |
| 89604 | 79046 | 873 | clear (synths) | Sandy Coves Conv. Home |
| 90857 | 37769 | 992 | clear | Croup Manor |
| 101804 | 48332 | 466 | free | Raft, NE of Croup Manor |