Greetings. As today is Memorial Day here in the U.S of A, I think it's necessarily important I take a moment to offer my condolences and respect to those who may have lost a loved one in the armed forces, and even more so, offer my inherent respect for the armed forces. I found a poem that I really appreciated and wanted to share it.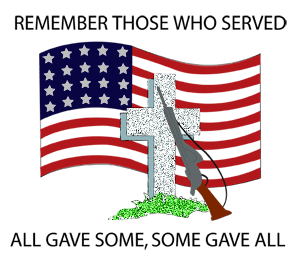 A Soldier - Unknown Author
"A soldier is a nobody, we hear lots of people say. He is the outcast of the world and always in the way.
We admit there are bad ones from the Army to the Marines, but the majority you will find, the most worthy ever seen.
Most people condemn the soldier when he stops to take a drink or two, but does a soldier condemn you, when you stop to take a few.
Now don't scorn the soldier but clasp him by the hand, for the uniform he wears means protection to our land.
The government picks its soldier from the million far and wide, so please place him as your equal good buddies side by side.
When a soldier goes to battle you cheer him on the way, you say he is a hero when in the ground he lay.
But the hardest battle of the soldier is in the time of peace, when all mock and scorn him and treat him like a beast.
With these few lines we close sir, we hope we don't offend but when you meet a soldier just treat him like a friend."
http://www.examiner.com/article/memorial-day-quotes-sayings-poems-say-thank-you-obama-s-memorial-day-speech
Happy Memorial Day, and to who it applies, thank you sir/ma'am.