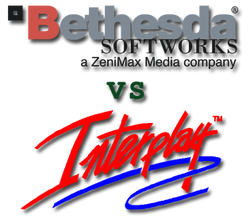 Duck and Cover reports that Bethesda has filed a motion in limine against Interplay. Only a fragment of the complete document is available, but it appears as though the "trademark and copyright license" claim is being used to bring up the "Fallout name only" argument once more.
"
For the reasons set forth in the accompanying memorandum, Bethesda moves the Court for an order:

(1) Holding that Defendant/Counter-Plaintiff Interplay Entertainment Corp. ("Interplay") bears the burden of proof at trial on each of the following issues: (a) that Interplay has a trademark and copyright license; (b) that Interplay had commenced "full-scale development of its FALLOUT MMOG" by April 4, 2009 as set forth in Section 2.3 of the Trademark License Agreement entered into by Bethesda and Interplay on April 4, 2007 (the "TLA"); and (c) that Interplay had "secured financing for the FALLOUT MMOG in an amount no less than US$30,000,000.00" by April 4, 2009 as set forth in Section 2.3 of the TLA;

(2) Precluding Interplay from offering parol evidence to support its defense that the TLA granted Interplay a copyright license;

(3) Precluding Interplay from arguing at trial that it had satisfied the "full-scale development" and "Minimum Financing" requirements set forth in Section 2.3 of the TLA by April 4, 2009; and

(4) Precluding Interplay from amending its pleadings to assert the affirmative defense of mistake.
"
Wanting proof of funding and development is fine, but then "They must present evidence, but they aren't allowed to present evidence".
Make your own assumptions, but this fragment of the filing paints a strange picture indeed.