Saturday Polls - Addendum
I remember ages ago during one of my Polls where I said I would do a short history of the Polls in general, since they've seen a lot of people come and go over the years. I figured as a nice present for those who have been adamant viewers of my Polls for a year and 2 months now that I would provide a little bonus. This is nothing special, I just thought it'd be nice for those who want to know how it started or who have been around since the start and want to look back. Enjoy!
In The Beginning...
The Saturday Polls first started with Crazy sam10 on the 24th of April 2011. Interestingly, the Polls first started off as every Sunday, not Saturday. Moreover, they were named the Weekly Polls. Sam's Polls were short, sweet and to the point (unlike my rambling ones). They also contained one question every Edition. Sam continued his Polls until the 15th of November 2011.
Moreover, Kastera1000 was also doing his own Polls. On July 6th 2011, he started publishing the Weekly Wednesday Poll so now people got 2 Polls a week, one on a Wednesday from him and one on a Sunday from Sam. Who'd have thought that the Saturday Polls didn't even start on a Saturday! Kastera continued his Polls until the 16th of November 2011.
Episode II: Attack of the Polls
When Crazy sam10 and Kastera1000 moved on from our Wiki, we were in a Poll-less age for at least a month. That is until Energy X started writing the new Polls on 25th of December 2011 (I hope he didn't miss out on Christmas because of this) entitled: The Mystery Polls. If you're wondering why the hell they were called this, it's because at this time, Energy X was called MysteryStranger, but he's no stranger to any of us now. Stranger's Polls continued on in the vein of short and sweet, but also with some nifty analytics for the previous week's results, have a look if you can spare a few seconds. The Mystery Polls finished on the 12th of May 2012.

Meanwhile, our favourite Yes-Man started his Polls on the 5th of May 2012 just as Stranger's were ending. Did you know that Yes-Man was just a temporary replacement back then, no better than the substitute teacher you'd throw paper airplanes at? Anyways, Yes-Man held down the fort on the 5th of May for Mystery Stranger, but became the new Poll-host on the 12th of May 2012. No longer were they the Mystery Polls, but finally The Saturday Polls. Yes-Man's Polls were witty, anecdotal and funny and brought in a lot of viewers. They also first brought in that rotating comment thingie (he did get the idea from someone else, however). Sadly, Yes-Man stopped doing the Polls on the 8th of September 2012 due to personal circumstances. Energy X kindly stepped back in to fill the void on the 15th of September 2012. Yes, he's Energy X now. X continued on the rotating comment thingie for his remaining Editions. I know there should be a proper name for 'rotating comment thingie' but I can't be asked to think of anything else.
Energy X's Saturday Polls finished on the 28th of October 2012, after which DeadGunner replaced him on the 3rd of November 2012, but at the time it was thought to be only temporary. As the longest running Poll host after me, Gunner's anecdotal introductions at the start of every Edition really got us to know more about him and just injected a bit more life into the Polls as a whole. By the time his watch had ended Poll position ended on the 3rd of November 2013 after a whole year, he was a real part of the Wiki and Poll history. At this time, I stepped up for the role.
Episode III: Revenge of the Poll Hosts
Okay, last Star Wars reference, I swear. After DeadGunner left, I became the new Poll host on the 9th of November 2013. My Polls, well I'll let you have been the judge of their quality or lack thereof. I was mostly inspired by Yes-Man and DeadGunner so aspects of their Polls passed on into mine. Be it the short anecdotes at the start, rotating comments, the added commentary of past results or even their writing style I would argue, influenced me a fair bit. But hey, I was the first to have a kickass Banner for my Polls. From my third Edition and onward I would include a random video of mine for every Poll (so fab!). Starting with my fifth I decided to add in occasional interviews and conversations with characters (my favourite was still with Veronica.
When I was away for 2 weeks in February 2014 on a high school exchange, MountHail kindly took over temporarily until I returned with Edition 15 and 16 (complete with his own Banner!) Interestingly and for the better, me and Yes-Man first became Co-hosts in crime with Edition 40 and those fabulous banners you see for every segment came into place with 44. After a whole year and with my A-Levels getting me busier, I decided to quit and let someone else take hold of the Polls with Edition 53 fittingly titled The End (also because I had recently finished all of LOST). Wow, I've talked about myself too much, let's talk about someone else now.

Everybody's favourite Englishman, JASPER42 begun The All New Weekly Poll Show on the 15th of November 2014 complete with all the humour and quirky conversations you could want in a Poll with his trusty co-hosts of Madison Li (before she left because of her alcoholism) and Davison and Tabitha. He also decided to replace the random video with a random song which made the experience more easier without video distractions. Jasper's final Poll was on the 2nd of May 2015, after which I somehow came back to the Polls.
The Present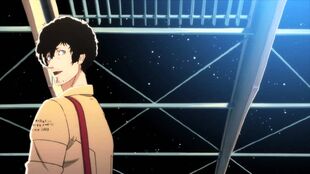 After I saw Jasper hadn't posted a Poll yet, I decided to post mine on Sunday on the 10th of May 2015. Initially I thought I was only to do the week until Jasper came back next week, but he offered me the Poll role back after I said how I had missed it and wanted some more turns with the old thing. From 54 until the present, Yes-Man has been co-host in every Edition. As it stands, Edition 63 is my latest one to date on the 11th of July 2015.

That was a lot of stuff to put down, but kind of interesting in my view seeing as how many people have been involved over the years. I hope anyone who read this enjoyed it!