Weekly poll
The Weekly Saturday Poll is a poll (not a pole!) every Saturday asking the community what they think about the fallout series ranging from skills, guns, music and other paraphernalia. Have a suggestion for the next poll? Tell me on my
talk page
!
If nobody understands you, we do. The Saturday Polls. Questions for the me generation. -Cue fabulous 80s pop introduction-
"
First time I saw Bryan Wilks I smacked him in the face with a sledgehammer. Stupid kid shouldn't have ran at me when I'm in ant-killing mode.
"
— Yes-Man
Last Week's Results
Question #1 I The Merchant asked What was the best New Vegas DLC?
In third place with 39 votes is Lonesome Road. Maybe because not so many people could handle Ulysses' long winded explanations and dialogue? My personal tip: for Xbox 360 users tap the A button to skip!
In 2nd place with 50 votes was Dead Monkey Money. I like this DLC because it's the only one to give you non-standard game overs. What? I wanted to see what the Personal Accounts said!
And in 1st place is Old World Blues with 103 votes. Eeeurgh, were those penises you are used on your keyboard to vote for this option!? Disgusting!

Question #2 What was Your favourite original Fallout small pistol?.
21 people chose the Desert Eagle putting it in third place. You know, for the longest time I spelled the hot and arid desert as "dessert". Meaning if I was younger it would have been the dessert gun to be in third place.
The iconic 10mm pistol came in 2nd place with 58 votes. It's iconic, too bad it sucks after a third of the way into the game :/
And in first place with 72 votes was the .223 pistol. One of a kind and you can pretend you're a Blade Runner when you use it. Remember to watch out for its latest reappearance in New Vegas! (steal it from the crazy dino toy salesman's storeroom in Novac)

Question #3 And finally, just where did you send "Bryan Wilks at the end of Those! "?
10 people never found him a home. For shame, for shame. He'll likely die on his own unless he likes ant chow.
13 people (including yours truly) sent him to Paradise Falls as a slave. Is it better than leaving him on his own? That's a good question.
And in 1st place with 178 votes was the option to live with Vera. God, you immoral scoundrels. Now he has to do chores! Have you no souls?
Question Time
There's a lot of questions this edition from a sudden influx of suggestions. Hold onto your butts...

From Santa Jaws (nice pun!):
Do you use the force lock option?

From Santa Jaws:
What's your opinion on the appearance of weather (e.g. rain, snow, lightning, thunder etc) in the next Fallout?

From Leea:
Have you ever been attracted to a character in the Fallout games?

From Leea:
What item do you collect in Fallout 3 or Fallout: New Vegas?

From Leea:
Do you wish you could enter the casinos on the Strip without having to give up your non-holdout weapons?

Love from, yours truly:
What title Reputation in Fallout 2 did you like best?
I like the Childkiller one most of all. Simply because the original image for it is one of the most hilarious things I have ever seen :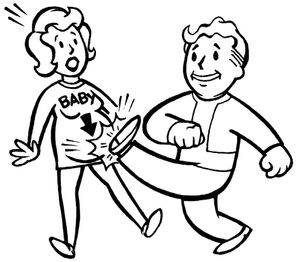 My random video of the week
Vote for Mass Effect 2 as game of the generation! This turian demands it!
That's all this week. If you have any suggestions, leave them on my talk-page.