Welcome to another edition of captioning fun caption fans! With the world on the brink of a meltdown right now, why not take a load of your feet and vote for your favourite caption or even submit your own?
This Week's Image
Take a look at this, tell me what you see.
Last Week's Winner
A winner is you, Agent c!
"Would you like to ride my Rocket 69?"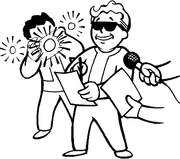 Ad blocker interference detected!
Wikia is a free-to-use site that makes money from advertising. We have a modified experience for viewers using ad blockers

Wikia is not accessible if you've made further modifications. Remove the custom ad blocker rule(s) and the page will load as expected.