Hi guys (and gals), it's BrandonFox here. As you might have known if you've been reading MountHail's polls, from the 14th of February to the 24th of February I was on a high-school exchange visit in the USA, Virginia (even though we only actually went to school for 2 days). It was an amazing visit, I met some wonderful people and I would consider it an eye-opening, even life changing experience. Some of the people I've met over there I intend to keep in contact with by email, and look forward to when it's their turn to visit England for a week near the end of June. Now, I'm sure a full timetable of what we did would bore you, but to make it quick we went to Washington DC and did some sightseeing there, we went to Philadelphia for a day, George Washington's house, other various activities in the evenings since we obviously had free time such as bowling and laserquest, regular school day for 2 of the days, middle school visits for one of the days (we UK students had to perform a short play). Also of interest, the 17th of February was my birthday (and was also President's Day) so I celebrated it in the US. On the day of my birthday, we went to Washington's house (part of the trip), ate dinner at a Japanese restaurant and had my birthday sung in Japanese. And then in the evening we attended the high school basketball game, where during half-time, the announcer announced that it was my birthday and I was from England and the entire audience (including the cheerleaders) sung happy birthday. Ahh, I will never forget that day.
I lost my hand luggage (which had my camera and my lovely Walking Dead Book 3 hardcover) so I had to use my host's camera for all of my pictures. Fortunately, I also managed to nab some good pictures other people on the trip posted on Facebook. Without further ado, here are some pictures!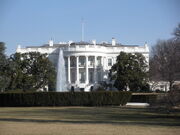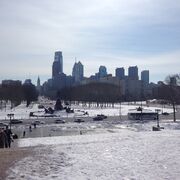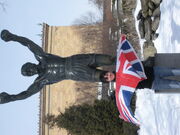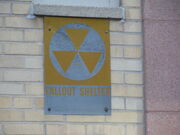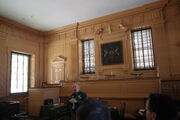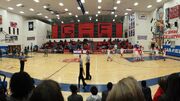 I understand that there aren't a lot of "personal" pictures of me and people, that's because a lot of those kinds of pictures were taken by other people, and will be uploaded soon to either a Google dropbox or onto Facebook. When that happens, which should be shortly, I'll make a 2nd part to this blog. Until then, hope you enjoyed my pictures!
Brandon Fox (talk) 10:34, March 1, 2014 (UTC)