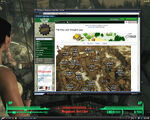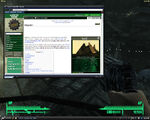 Take the Fallout wiki in-game with Xfire by pressing Scroll Lock + W! Fresh from a partnership with Xfire, we are proud to announce that The Vault will serve as the default in-game web browser for Xfire while playing any of the Fallout titles on the PC. That's right, no more alt-tabbing, throw away your second monitor, close your laptop, put your pants back on…er, you get the picture. Check out Xfire's browser page for more details.
Been living in a cave and haven't heard of 'em? Xfire is the number #1 gaming application for PC gamers. In under 6MB, Xfire enhances a users gaming through in game chat, stat tracking and guild hosting. Xfire also allows users to live broadcast their gameplay, capture and upload in-game video and screenshots. Recently Xfire also went live with Pro Voice, which provides free server-hosted voice chat accessible in and out of game. So having Xfire with you in-game is pretty much like having MacGyver in your guild.
Ad blocker interference detected!
Wikia is a free-to-use site that makes money from advertising. We have a modified experience for viewers using ad blockers

Wikia is not accessible if you've made further modifications. Remove the custom ad blocker rule(s) and the page will load as expected.