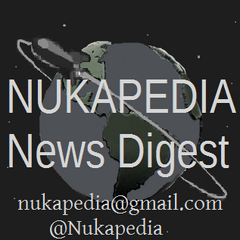 Here's another summary of what's going on at The Vault and Wikia in general.
The Vault news
Adminship request
Jspoelstra has requested administrator rights. You can vote on his request until Friday, March 4.
Table css changes
The standard table class is no longer called "fallout-table". Instead, it's now "va-table" in order to save us some typing. As "fallout-table" no longer works, please do not use it anymore. The vast majority of tables should have been fixed by bot; if some have been missed, please update them manually.
Weekly community conference
join us on Tuesday, March 1 for our weekly community conference in in our IRC channel.
The conference will start on 21 UTC/GMT/4 PM EST/1 PM PST. Of course, you're free to join our channel at any other time as well to talk about Fallout and lots of other topics.
If you have an IRC client
Start your IRC client
Connect to irc.freenode.net on port 6667 and join the channel #wikia-fallout
If you do not have an IRC client
You can use the simple web-based Freenode JAVA client
Be sure you are joining the #wikia-fallout channel!
Ongoing discussions
Wikia news
Wikia Labs
Wikia has introduced a new tool - Wikia Labs. Inspired by projects such as Google Labs, Wikia Labs is a place that will allow admins to see what new features are being worked on, turn them on for their wikis, and voice their opinions. Wikia Labs will be linked in the custom toolbar for admins and available for them at Special:WikiaLabs.
Please keep a few things in mind:
These are brand new features that are still in development, so they will likely have some bugs. Feel free to report bugs, but we are particularly interested in your opinion of the new features.
Not all Wikia features will be a part of Wikia Labs, and many features will still be rolled out in the traditional way.
All feedback will be read, but we won't be able to respond individually to each message.
When you activate a feature, it will be on your wiki automatically. All activations are listed in the Wikia Labs log.
If you have more than one admin on your wiki, you may want to chat first before turning on a Wikia labs product.
Starting today, Wikia is looking for volunteers to try out Wikia Labs. For more details, see the Community Wiki post.