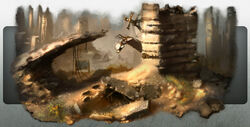 Brian Fargo's inXile Entertainment has launched a new version of the company's website, and the image in the website's header is looking quite wastelandish.
inXile has the rights to the Wasteland title, and Fargo has indicated several times that he wants to create sequel to the original Wasteland, which was Fallout's predecessor, created by Interplay in 1988. Jason Anderson, one of the creators of Fallout, is now a creative director for a new, unannounced role-playing game by inXile, which might be Wasteland 2.
For more information, see our sister site, Wasteland Wiki.