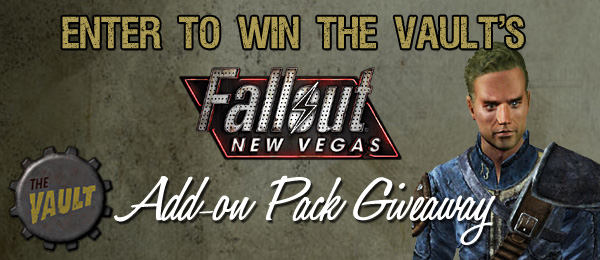 The Vault's last giveaway has just finished, so we have another one for you! This time the prizes are codes allowing you to download the Classic Pack pre-order bonus add-on for the PC or PS3 version and Caravan Pack for the 360 version of Fallout: New Vegas.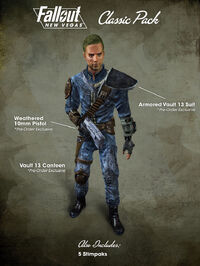 The Classic Pack pack includes the following items, given to the Courier at the beginning of the game:
To enter the contest, you must be a registered Wikia user with your e-mail address entered in your profile, as well as upload and add at least one image to a Vault article that was previously missing an image or has an image of bad quality. For a list of articles in need of images, see here. This includes, of course, many newly added Fallout: New Vegas articles, so keep making good screenshots and adding them to the wiki!
If you fulfill the above conditions, simply write a comment under this blog post (only one comment per user is allowed), specifying your platform of choice, and we will draw the lucky winners on Wednesday, November 3.
Image guidelines
Please remember to categorize the files you upload by inserting [[Category:]] with the name of an appropriate category in the "Summary" box. For a list of available categories please see Category:Images by type and its subcategories. For example, images of Fallout: New Vegas characters should be in [[Category:Fallout: New Vegas characters]] etc.
Also, according to our image policy:
Images should be of good quality.
Images should never include parts of the UI (HUD, crosshair) unless the point of the given image is to illustrate the UI itself.
Images should have a descriptive name.