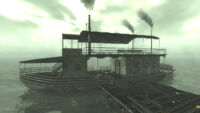 The fourth Fallout 3 add-on, Point Lookout, was released for the Xbox 360 and PC (Games for Windows Live) on June 23, 2009.
The PlayStation 3 version is to be released after the first three add-ons have been released. The DLC costs 800 Microsoft points or $9.99. A disc version will be available for PC and Xbox 360 together with Broken Steel as part of the second Fallout 3 Game Add-On Pack in August 2009 (and in September 2009 in France).
Point Lookout takes place in the Fallout equivalent of Point Lookout State Park, a new swampland area with new quests and enemies. Point Lookout in the Fallout setting has a landscape between one sixth and one fifth the size of the Capital Wasteland where "the bombs didn't actually fall, but the world has left it behind".