Comments

23
Pete Hines to be interviewed in OXM podcast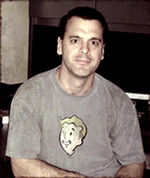 Several hours ago, the Official Xbox Magazine tweeted about an upcoming Fallout: New Vegas interview with Bethesda's Pete Hines to be featured in their podcast just after the new issue of the magazine, where New Vegas is the cover story, goes on sale.
The podcast is apparently to be available on iTunes. I don't use iTunes myself, but hopefully someone will send us a summary any new info once it's out. Too bad it's Pete Hines, though, and not any of the Obsidian developers that are actually working on the game.
Ad blocker interference detected!
Wikia is a free-to-use site that makes money from advertising. We have a modified experience for viewers using ad blockers

Wikia is not accessible if you've made further modifications. Remove the custom ad blocker rule(s) and the page will load as expected.