Comments

118
PC Gamer US to have a "world exclusive" preview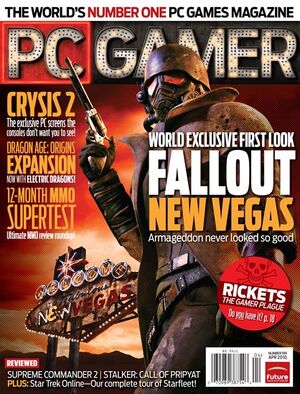 Like all three UK magazines that have previewed the game already, PC Gamer US calls its coverage of Fallout: New Vegas a "world exclusive first look", apparently not counting the United Kingdom as part of the world. The article itself is written by Dan Stapleton, who is a more competent game journalist than some who have previewed the game before, and might have noticed some stuff that the others missed. Some subscribers have already received the magazine, so if you have it and there's any interesting new info there, don't hesitate to inform us!
Ad blocker interference detected!
Wikia is a free-to-use site that makes money from advertising. We have a modified experience for viewers using ad blockers

Wikia is not accessible if you've made further modifications. Remove the custom ad blocker rule(s) and the page will load as expected.