Comments

86
O:A for PS3: Bethesda's update on next week's update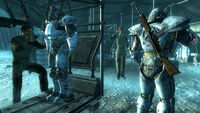 According to G4TV.com, Bethesda's Pete Hines told them that there will be an update on the PlayStation 3 release of the Operation: Anchorage add-on next week. The add-on is expected to be published sometime this month, after being pushed from late June.
Ad blocker interference detected!
Wikia is a free-to-use site that makes money from advertising. We have a modified experience for viewers using ad blockers

Wikia is not accessible if you've made further modifications. Remove the custom ad blocker rule(s) and the page will load as expected.