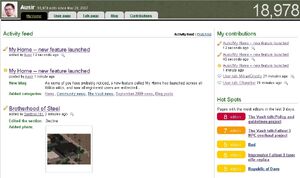 As some of you have probably noticed, a new feature called My Home has launched across all Wikia wikis, and now all registered users are redirected from http://fallout.wikia.com to Special:MyHome instead of the Main Page. Here's a quote from Wikia Staff Blog:
My Home includes a lot of new elements:
Activity feed is a friendly version of Recent changes that shows the latest activity on the wiki. The Activity feed adds some new information that you can't get on Recent changes, including thumbnails for new pictures and videos added to a page. You can also see your Watchlist using the new Activity feed layout.
Hot Spots is a new way to see what's happening on the wiki, showing the articles that have been edited by the most people in the last few days.
Community Corner is a spot for wiki admins to highlight things that are important to the community. Admins can use that space to organize a project, show off new pages that everyone should see, highlight a discussion that's happening on the wiki, or give a shout-out to a contributor who's added something special.
New user masthead -- There's also an updated version of the masthead on user pages. Now it includes the contributor's edit count, so everyone can see how much you've added to the wiki.
There are a few ways to get to the My Home page: There's a link at the top right next to your user name. There's also a tab on the user masthead when you're on your own user page or talk page. Also, logged-in contributors who bookmark the basic URL of the wiki -- wikiname.wikia.com -- will go directly to My Home, instead of stopping off at the main page first.
My Home offers a user-friendly version of some existing wiki features like Recent changes and Watchlist, but it doesn't replace the old versions. Recent changes is still where it's always been! My Home is designed to help newer contributors learn about the wiki, without taking away functionality that the experienced contributors are used to.
If you don't like the automatic redirect, you can disable it in your Preferences, in the Misc tab. Personally, both Porter21 and me would prefer it to be disabled by default, and want to request Wikia to make it so that only people who enable it themselves will be redirected. However, we'd also like to hear from other editors - please post your feedback in our forum.