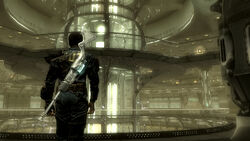 I have conducted an interview with Bethesda Softworks' Brian Chapin about the upcoming Mothership Zeta Fallout 3 add-on for Polish site Polygamia.pl. Among other things, it has some new information about the aliens themselves, as well as about what they are up to, who the other abductees might or might not be and whether all Mothership Zeta quests focus only on combat.
You can read the whole interview here: Interview: Fallout 3: Mothership Zeta (Polish version first, scroll down for English version).
Ad blocker interference detected!
Wikia is a free-to-use site that makes money from advertising. We have a modified experience for viewers using ad blockers

Wikia is not accessible if you've made further modifications. Remove the custom ad blocker rule(s) and the page will load as expected.