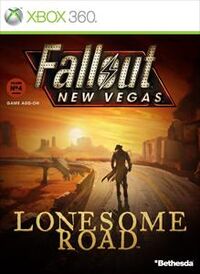 Lonesome Road, the final Fallout: New Vegas story add-on, has been released on Xbox 360 and Steam in North America and Europe and on PS3 in North America as well. According to Jason Bergman, PS3 players in Europe will have to wait for it until tomorrow.
Don't forget to take part in our Lonesome Road giveaway while you still can!
Ad blocker interference detected!
Wikia is a free-to-use site that makes money from advertising. We have a modified experience for viewers using ad blockers

Wikia is not accessible if you've made further modifications. Remove the custom ad blocker rule(s) and the page will load as expected.