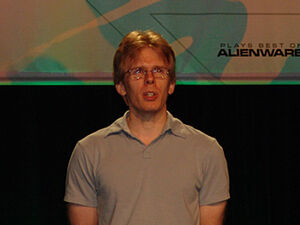 Several early designs for a Fallout game for the iPhone have been pitched and rejected in the past at Bethesda Softworks. However, now it looks like John Carmack of id Software, which has recently been acquired by Bethesda's parent, ZeniMax, has an idea for it that might get made.
Carmack told Kotaku that, while it's nothing official yet, he has an internal proof of concept made for a Fallout iPhone game. Both Carmack and Bethesda's Todd Howard are fans of the platform and any iPhone game based on Bethesda's IP will likely be made as a joint project between id and Bethesda.
Carmack said that he will likely be personally involved in making the game, although currently he is too overloaded with work on other games. "At the very least I'm going to be providing code," he said.