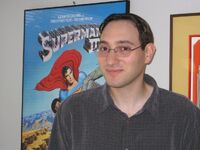 Fallout: New Vegas producer Jason Bergman has been interviewed by Bethesda Blog. Here's a snippet:
"
What is your job at Bethesda Softworks?

I'm the Senior Producer on Fallout: New Vegas. Which is a fancypants title that means I'm the primary point of contact for Obsidian Entertainment (the external developers working on the game) here at Bethesda.

My job is weird and varied. The easiest oversimplification is that it's my job to make sure Fallout: New Vegas comes out on time and meets the standards we have for the game. When any of the various departments (QA, marketing, finance, etc.) here at Bethesda needs something, it's me they go to. And then when Obsidian has issues, they talk to me. And of course I get to raise issues all on my own because I'm a troublemaker and that's what I do. Plus I get to manage the budget and make sure people get paid, which is easily the most glamorous part of my job.
"