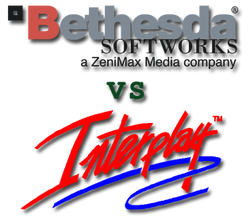 Several days ago, Interplay has filed another opposition document in the ongoing Bethesda v. Interplay case.
"
The Motion seeks the dismissal with prejudice of only three of the six counts alleged in the Counterclaim, those being the claims for: (a) Breach of the Implied Covenant of Good Faith and Fair Dealing (Count IV); Rescission (Count V); and, (c) Tortuous Interference with Prospective Economic Advantage (Count VI). Bethesda contends that these Counts fail to state a claim upon which relief can be granted pursuant to Federal Rule of Civil Procedure 12(b)(6). The Counterclaim also includes claims for relief for: (a) Breach of Contract of the Asset Purchase Agreement dated April 4, 2007 (the "APA," Count I); (b) Breach of Contract of the Trademark License Agreement dated April 4, 2007 (the "TLA," Count II); and, (c) Declatory Relief of the parties rights under the APA and TLA (Count III). The Motion does not seek to dismiss these Counts.
"
Among other things, they claim that, while their agreement with Glutton Creeper Games regarding the Fallout d20 license might have been in violation of the 2004 Exclusive Licensing Agreement, it is still valid because, when the 2007 Asset Purchase Agreement superseded the ELA, Bethesda did not object to it.
"
The APA contains a scedule of pre-existing outbound licenses of the Fallout intellectual property entered into by Interplay. Bethesda received and reviewed the schedule as part of its due diligence before executing the APA. The APA provides that if Bethesda did not approve of the outbound licenses associated with the Fallout intellectual property, Bethesda could refuse to execute the APA without consequence. One of the outbound licenses was to Glutton Creeper Games for the creation of a Fallout pen-and-paper role playing game based on the Pre-Existing Fallout titles. Bethesda did not object to the Glutton Creeper Games license and proceeded to execute the APA even with actual knowledge of its existence. Thus, Bethesda accepted the Glutton Creeper Games license at the time it execute the APA. Whether the Glutton Creeper Games license may have inadvertently violated the previous Exclusive Licensing Agreement between Interplay and Bethesda is reelevant because the APA superceded and replaced the Exclusive Licensing Agreement in its entirety.
"
While Bethesda claims that the APA does not allow Interplay to license the rights to digital distribution of pre-existing Fallout games to companies such as GOG.com or GameTap, Interplay states that the APA does not limit its distribution channels or permit Bethesda to approve Interplay's distribution agreements.
Like Bethesda in its own filings, Interplay also cites many precedents. While Bethesda cites Maryland law in its filings and claims that it should be applied for tort claims, Interplay says that Delaware law should be applied instead in all cases. According to Interplay, under Delaware law the APA is considered an entire integrated document and cannot be terminated in part, only as a whole, which would give Interplay the ownership of the franchise back.
In general, Interplay argues that:
"
Interplay has properly pled facts to support its claim for breach of the implied covenant of good faith and fair dealing (count iv)

Interplay has properly pled facts to support its claim for tortious interference with prospective economic advantage (count vi)

Interplay has properly pled facts to support its claim for rescission (count v)
"