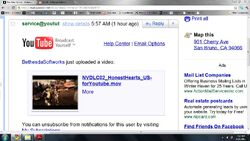 A Bethesda forum user called Miles_Acraeus who subscribes to the Bethesda Softworks channel on YouTube has posted about being sent an e-mail notification about a new video uploaded by Bethesda - the trailer for the upcoming Fallout: New Vegas add-on titled Honest Hearts. However, the video itself was set to "private" and then removed. Stay tuned - we'll keep you posted as soon as the trailer is available.
Update: Duck and Cover has managed to get 3 (very small) screenshots of the trailer before its official release:
Ad blocker interference detected!
Wikia is a free-to-use site that makes money from advertising. We have a modified experience for viewers using ad blockers

Wikia is not accessible if you've made further modifications. Remove the custom ad blocker rule(s) and the page will load as expected.