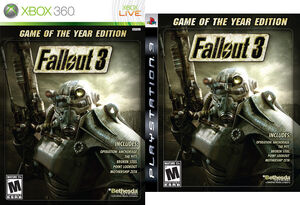 Some PS3 users are are reporting problems with their saves from the original edition of Fallout 3 not working with the Game of the Year Edition. It seems that it does not affect players in the US, but it does affect those in some other countries, like Canada and Sweden. It is caused by the game's ID in original and GotY versions being different. Hopefully, Bethesda will fix this issue through a patch.
Matt Grandstaff, Bethesda's community manager, says "We're aware of that and looking into it. We also know right now it's not an issue in the US."
Ad blocker interference detected!
Wikia is a free-to-use site that makes money from advertising. We have a modified experience for viewers using ad blockers

Wikia is not accessible if you've made further modifications. Remove the custom ad blocker rule(s) and the page will load as expected.