Comments

207
Game of the Year Edition and PS3 add-on release dates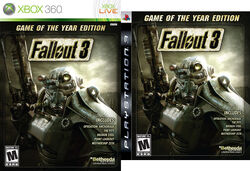 Bethesda Softworks has announced that the Fallout 3 Game of the Year edition, which will include all add-ons, will be released on October 13, 2009. We also know what the box of the GotY edition will look like. In the US, the Xbox 360 and PS3 versions will cost $59.99, while the PC version will cost $49.99.
We also know the release dates of all add-ons on the PlayStation 3. Broken Steel will unfortunately not be released today, but next week - on September 24, followed by Operation: Anchorage and The Pitt on October 1 and by Point Lookout and Mothership Zeta on October 8.
Ad blocker interference detected!
Wikia is a free-to-use site that makes money from advertising. We have a modified experience for viewers using ad blockers

Wikia is not accessible if you've made further modifications. Remove the custom ad blocker rule(s) and the page will load as expected.