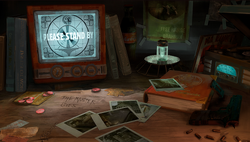 The official website for Interplay and Masthead Studios's Fallout Online (formerly known under the codename Project V13) has finally officially launched, featuring a teaser with a bunch of art and the song "Slave to the Blues" by Ma Rainey. On the site, you can sign up for a newsletter and for eventual beta tests of the game.
Despite the announcement, the legal status of the game is still, to our knowledge, not clear. Hopefully, we'll hear more about that soon as well.
Thanks, Chris Taylor!
Ad blocker interference detected!
Wikia is a free-to-use site that makes money from advertising. We have a modified experience for viewers using ad blockers

Wikia is not accessible if you've made further modifications. Remove the custom ad blocker rule(s) and the page will load as expected.