I have already posted information about the story of the canceled Fallout Extreme (a canceled squad-based first- and third-person tactical game for the Xbox, using the Unreal Engine and developed by Interplay's 14 Degrees East division). Now it's time for gameplay details.
The game was not going to be just a shooter, but rather "a game of action,tactics and strategies where moving into position, planning and falling back" is just as essential as having the biggest guns around. The world map was divided into territories, each of which had different layouts, population of various enemies, different geographical strategic significance etc. Strategy would come into play based not only on the tactics employed for a given mission, as the dynamics of each mission would be different based on whether the player entered the territory from the west, south, north, etc. To get to a particular territory, one could e.g. choose either to charge through an enemy stronghold or to sneak around through adjacent territories in order to flank the enemy.
Missions would also be interconnected and your choices would have consequences. E.g. if the player destroyed a bridge in the territory of one mission, the enemy forces might be weakened in the next one, because of lack of reinforcements. Conquering and holding territories with productive towns would be essential for establishing and maintaining supply lines. If there were a supplied camp nearby, the player's access to various kinds of weapons, ammo etc. would be constant and reliable. The player could close off a territory, forcing enemy troops to pass through another territory, where an ambush could be set up. It's actually a shame that Fallout Tactics did not have stuff like this.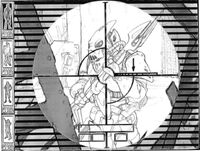 After completing a given mission, the player would move their characters to outlying camp areas, where new characters for the team roster (up to 16 characters) could be recruited, and different roster members could be assigned to the active four-person team for the next missions. Members of the roster not on the active team could be sent as scouts to adjacent territories or deployed into newly conquered territories to hold fort. If a character died, they would clear space in the Roster, allowing the player to recruit new members.
At any time during a mission, the player could switch and control any of their four squad members, each of whom had different perks and specialize in different weapons. In the meantime, the other characters could be issued various standing orders. However, characters also had personality traits that would determine how they would react under different stresses. Each character would gain experience points, which would allow them to increase combat skills or unlock perks.
Aside from the single-player campaign, there were going to be several mutliplayer modes: team campaign, death match, capture the flag, assault, squad death match, squad capture the flag and squad assault.