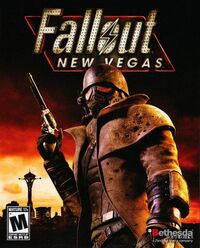 Now that it's past midnight in most of Europe, Fallout: New Vegas is officially released here, and it should now be unlocked on Steam! Can't wait to finally play it myself as well.
Unfortunately, looks like at least the Eastern European version released in Poland, Czech Republic and Russia by 1C/Cenega still hasn't been patched. Please let us know about the patching status of other versions.
The Vault already has lots of info about the game (visit our New Vegas portal for an overview) but everyone is encouraged to add as much content as they can to help us build the ultimate guide to Fallout: New Vegas. If you want to add a missing article, remember to use our handy preloaded templates for various types of content (e.g. locations, items, characters, etc.).
Ad blocker interference detected!
Wikia is a free-to-use site that makes money from advertising. We have a modified experience for viewers using ad blockers

Wikia is not accessible if you've made further modifications. Remove the custom ad blocker rule(s) and the page will load as expected.